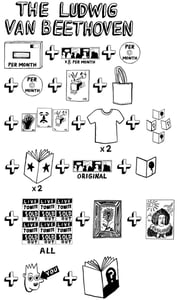 £

250.00
x 12 monthly packages of Good Grief!'s latest and greatest arrivals
An exclusive mix cd compiled by one of Good Griefs compadres for each
month of subscription
An exclusive cd of new and original music performed/compiled by Edwin
Stevens (giant hell, klaus kinski, irma vep, dinner party, a
middlesex) every month!
An exclusive print edition for subscribers
A Good Grief! tote bag
A Good Grief! T-shirt (exclusive subscription only design)
An exclusive book
A set of Good Grief! Greetings card
x3 Art prints
x8 'Flesh and Bone' prints each month
+++
An ORIGINAL 'Flesh & Bone' comic strip
ANOTHER exclusive Subscription only T-shirt
ANOTHER especially made book
A birthday card on your birthday
ALL posters and prints from the Good Grief! family made throughout the year! That's a lot of posters and prints, definitely in excess of 50!
++++++
A Framed Original art work!
Extra stuff to compliment the central package each month
Appear in 'Flesh & Bone' as a character, more than a cameo!
HAVE A BOOK made especially for/about YOU. You get the original copy, the ONLY copy!
___
Just 3 Subscriptions available!
Shipped on the 1st of every month. Starting October 1st 2010 onward